Are you worried about frozen condensate pipes? Are you unsure where a condensate pipe is on your Keston boiler?
The temperatures are dropping and we are getting closer to the winter months. During this time condensate pipes may become frozen, so knowing how to unfreeze them could save you from going without heating this winter.
Here at Keston Boilers, we want all our customers to feel warm, comfortable and secure as temperatures drop with cold weather forecasts undoubtedly on the way. That's why we have put together ways to ensure your condensate pipes don't freeze and your boiler continues to run smoothly all year round.
What is the Condensate Pipe on a Boiler?
The boiler condensate pipe is the drain pipe. It allows water to be drained from the home's heating system and disposes it with your household water. The condensate pipe is usually a plastic pipe located at the bottom of your boiler and should run to the outside of your home into a drain.
What are the Signs of a Frozen Pipe?
Before attempting to unfreeze the pipework you need to ensure this is the actual fault. When it comes to your boiler it's vital that it's performing well in winter. In the unfortunate situation that your boiler does stop working, you should check for the following:
On Keston Heat boilers: the display show Check Condense
The boiler makes a gurgling noise
If you are experiencing any of the above issues, it's possible that the boiler's condensate pipe is frozen - but don't panic! It is an extremely common problem when the temperatures outside drop below freezing.
How Do You Treat a Frozen Condensate Pipe?
The solution is simple. If you follow these easy steps you will have your Keston boiler back up and running in no time:
Locate your condensate pipe which runs from the bottom of your boiler. It could be a white or grey plastic pipe that runs through the wall and outside the property for part of its length.
Remove any insulation that is fitted to the condensate pipework.
Apply a hot water bottle or microwavable heat pad around the pipework.
You could also pour tepid water over the frozen section of the condensate pipe. Important - don't use boiling water as this may crack the pipe!
To help prevent further freezing, refit the insulation sleeves onto your boiler's condensate pipe.
Once you have cleared the blockage from the condensate pipe press the restart button.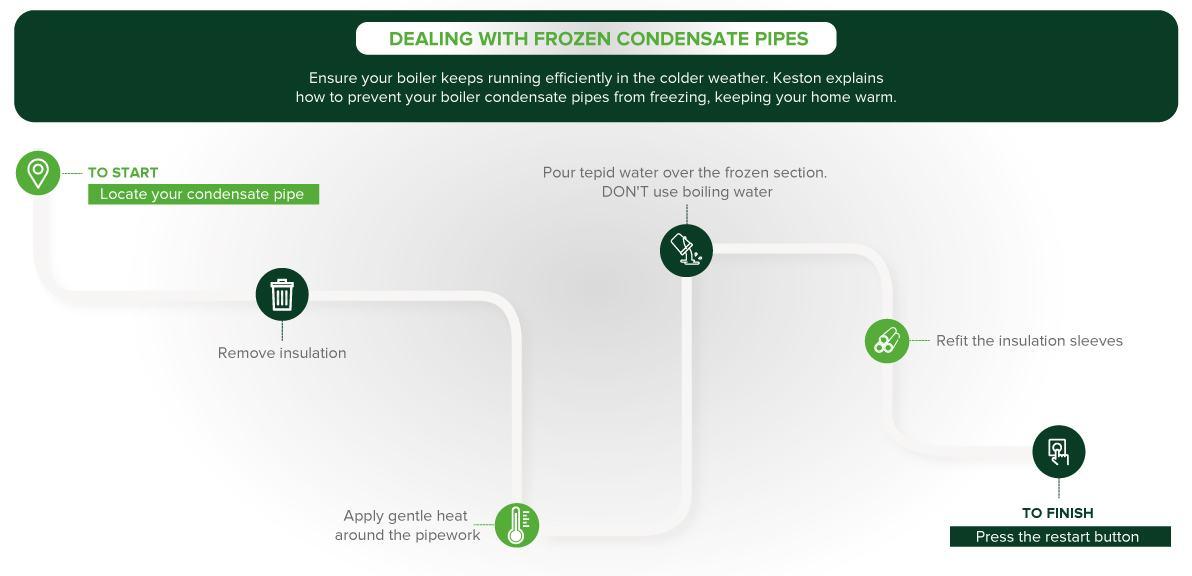 When tending to your boiler and any frozen condensate pipes, you should always take extra care if they are not easily reached from ground level. Also be careful when pouring water onto a pathway as it may freeze, causing a slip hazard.
It's advised that you don't put yourself at any undue risk without seeking assistance from a Gas Safe engineer.
How to Prevent a Frozen Condensate Pipe

There are an abundance of ways to help reduce the chances of your boiler's condensate pipes freezing. In the colder months you should take the following steps:

Cover your condensate pipe with foam pipe insulation.
Leave the heating on overnight (even on low) to help keep the condensate pipe warm when the temperature outside is at its lowest.
You can turn your temperature up higher to reduce the amount of condensate but do be careful as this may lead to very hot radiators.

If the fault persists, please contact the Keston team on 01482 443005 or you may find the answer to your questions by contacting us.