A KESTON BOILER FOR ALL OCCASIONS
When you choose a Keston twin flue boiler, you're partnering with a trusted British manufacturer. You can rely on support from a dedicated national service team, delivering help and advice to you and your customers 364 days a year.
Our rigorous research and development procedures and manufacturing quality control checks ensure all of our boilers and appliances are produced to the highest of standards, delivering total peace of mind. These standards allow us to fully comply with regulations around flues in voids and give us the confidence to offer warranties of up to 7 years*.
The Keston twin flue system can be extended up to 27 metres from the boiler, meaning an easy and hassle-free installation. With Keston, your boiler can be situated in any room, any place, anywhere — no compromise.
WHO OWNS KESTON BOILERS?
Keston's original parent company was established in 1928 to provide domestic and commercial heating installations and servicing. In 2006, Keston was purchased by Ideal Heating before moving production to Ideal's Hull manufacturing site in 2013.

Our British-made combi, system and heat only boilers are developed and manufactured to the highest standards. Keston helps you go the distance, with the ability to run a boiler flue pipe vertically or horizontally and extend it up to 27 metres.
Need Your Boiler to Be Out of Sight?
If your installation requires you to keep the flue out of sight, or site a boiler in an unusual position, a longer flue run can provide the solution you're looking for.
View the Keston product range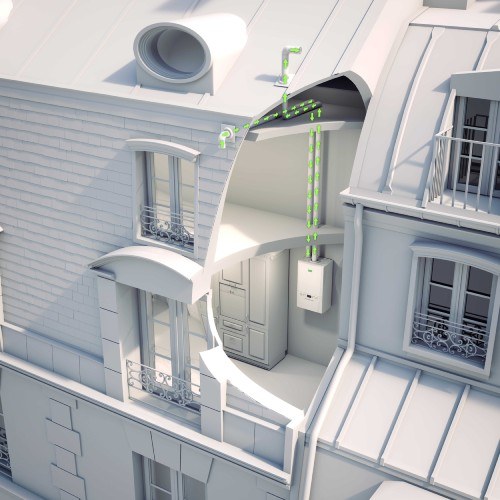 Installing a Boiler a Long Distance From the Outlet
Keston's twin flue system makes it possible to extend a flue up to 27m from the boiler, offering a far more flexible and cost-effective alternative to concentric flues.
View the Keston product range
British Built Since 2013
All Keston boilers are manufactured at our site in Hull