Sharing expertise and audiences
The investment in Clade has enabled us to strengthen Groupe Atlantic's expertise and commercial portfolio not just in CO2 heat pumps, but in CO2 heat pumps that have been designed in the UK specificallyfor the UK market. This provides our commercial customers with more choice when it comes to paving the way for a sustainable and greener future. It also firmly reinforces our strategy to be at the forefront of low carbon heating solutions, offering the largest portfolio of commercial heating products in the UK.
We have also initiated an intensive heat pump product training schedule aimed at immersing our specification team and engineers in the world of natural refrigerant and CO2 heat pump technologies with Clade in order that our customers can benefit from this expertise and in-depth knowledge when working on low carbon projects.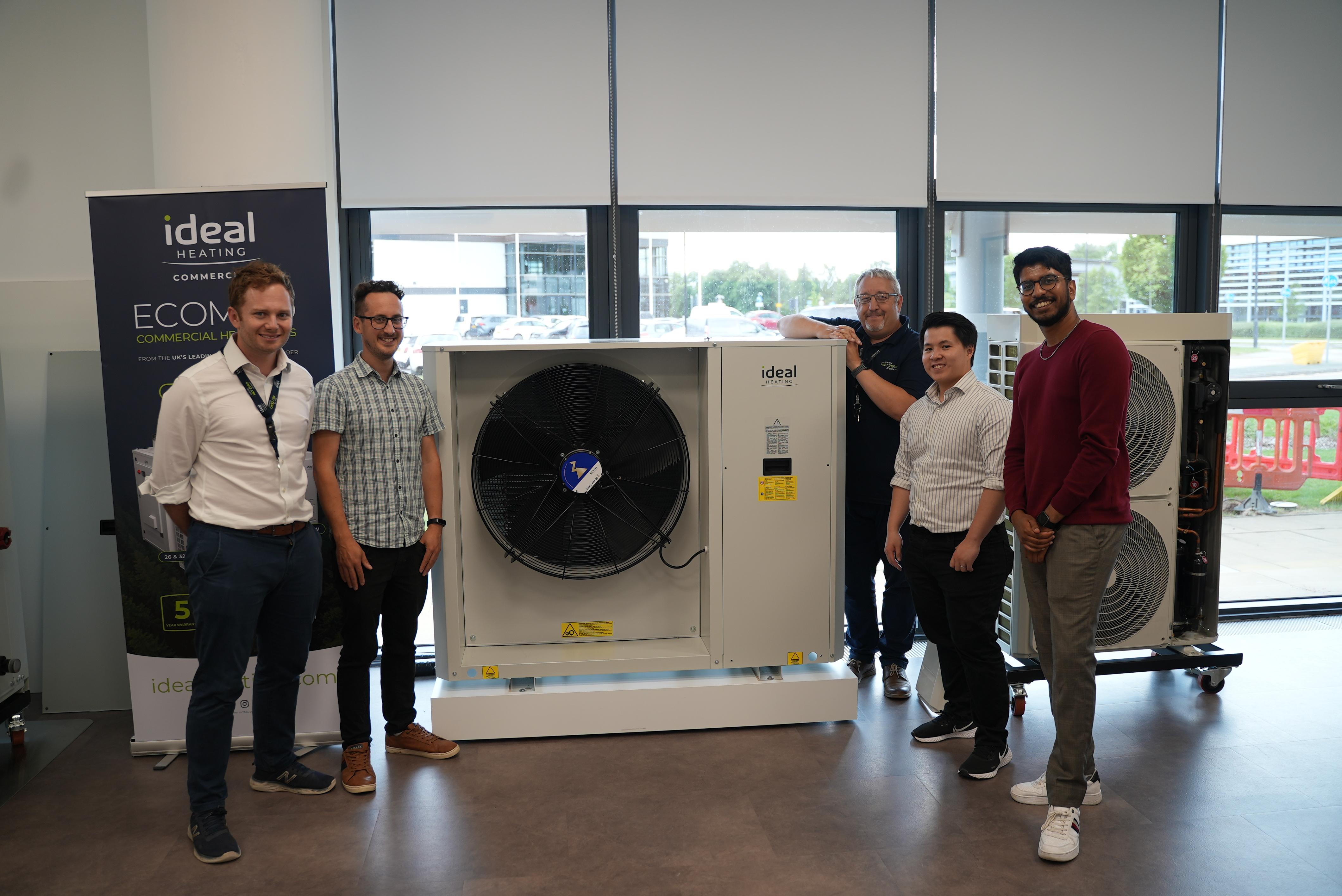 Getting social in summer
In July, Clade participated in the Groupe Atlantic 'Summer Social', held at our Expert Academy training facility in Leeds. The customer event featured CPD seminars and roundtable discussions and showcased the breadth of Groupe Atlantic commercial's portfolio and, for the first time, Clade product ranges. "The event represents the first opportunity we have had to introduce Clade CO2 heat pumps to Groupe Atlantic customers in person" states Tim Rooke, Chief Markets Officer at Clade. "The event was well attended and the customer feedback we received was extremely positive. Natural refrigerants are gaining traction across the commercial sector and building services engineers are keen to learn more. We are looking forward to sharing our extensive knowledge on this subject with customers across the entire group."
A peek behind the scenes
More recently, Groupe Atlantic commercial division welcomed engineers from Introba UK, one of the world's largest building engineering and consulting firms, on a visit to both our new purpose-built training and manufacturing facility in Hull and to Clade's Technology Hub in Leeds, handily located near the commercial offices. It was a busy two days for Martin Bull, Maasilen Nadarajah, Ben Ko, and Jordan Galsworthy from Introba, but they were able to see first-hand how our UK manufacturing is rising to the low carbon challenge. Commenting on the visit, Jordan said: "We had an excellent couple of days up in Hull/Leeds visiting both - factories! It was very impressive to see the investment from both companies in heat pump technology including natural refrigerants and hydrogen boilers! It was exciting to see heat pumps ranging from 14kW all the way up to 600kW units and be given the opportunity to see the refrigeration cycle demonstration rig! Thanks to Richard Brown for organising the trip and looking after us all!"
What does the future hold?
We've packed a lot of activity into the three months since the partnership announcement between Groupe Atlantic and Clade Engineering was made, and we've plenty of further activity planned for the coming months, not least of all an exciting major event involving all Groupe Atlantic brands in October.
Darren Finley, Managing Director – Commercial Products, Groupe Atlantic UK, ROI & NA, comments on what we can expect to see: "Well, it's certainly early days, but as we move forward, we are already engaged in stimulating discussions over new product developments for the UK market, pooling our extensive skills set and knowledge. One thing it is safe to say: exciting times are ahead."